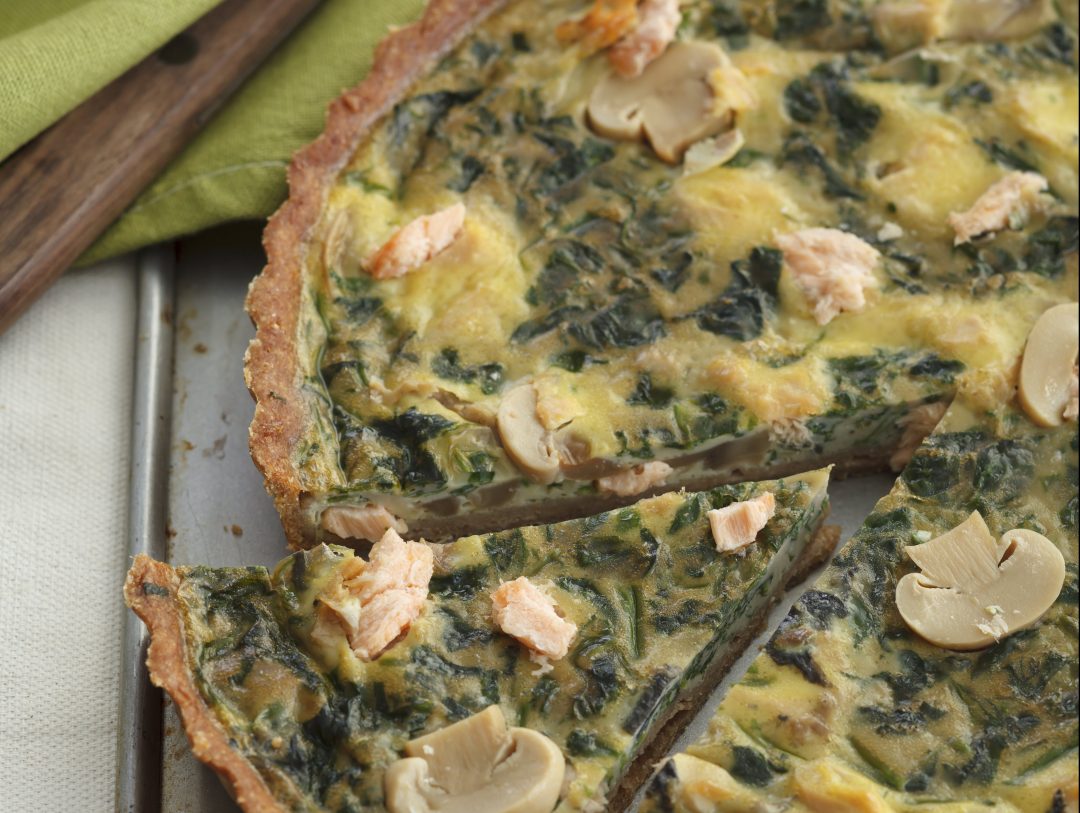 A slice of this is a handy breakfast meal you can take with you when you're on the go! This heartwarming and filling dish is far better than an ordinary store-bought quiche. You'd never think it's this easy!
I know the word "quiche" can sound a little intimidating for those of you who don't regularly order this in cafes. And for those of you who do, I know they can tend to be overpriced! Considering how simple it is – it's just pie crust, eggs, milk and just about anything you want to add to it! There are a variety of vegetables you can blanch and toss in with bacon, ham, chicken, tuna flakes, you name it and it'll still most likely make a pretty good quiche!
For my wholesome version, I chose salmon for its heart-healthy omega-3 fatty acids that boost your brain power and eye health. I also throw in some raw spinach because you don't need to precook them as they will wilt when the quiche bakes. And most importantly, I do my pie crusts the healthy way by using 100% whole wheat flour and olive oil butter. You need the fiber from the whole wheat but you do not need the saturated fat from regular butter. Using almond milk also cuts the amount of fat you could otherwise be getting from cow's milk and is especially helpful for those intolerant to dairy. But the choice is yours! Regular butter and cow's milk go just fine with this recipe.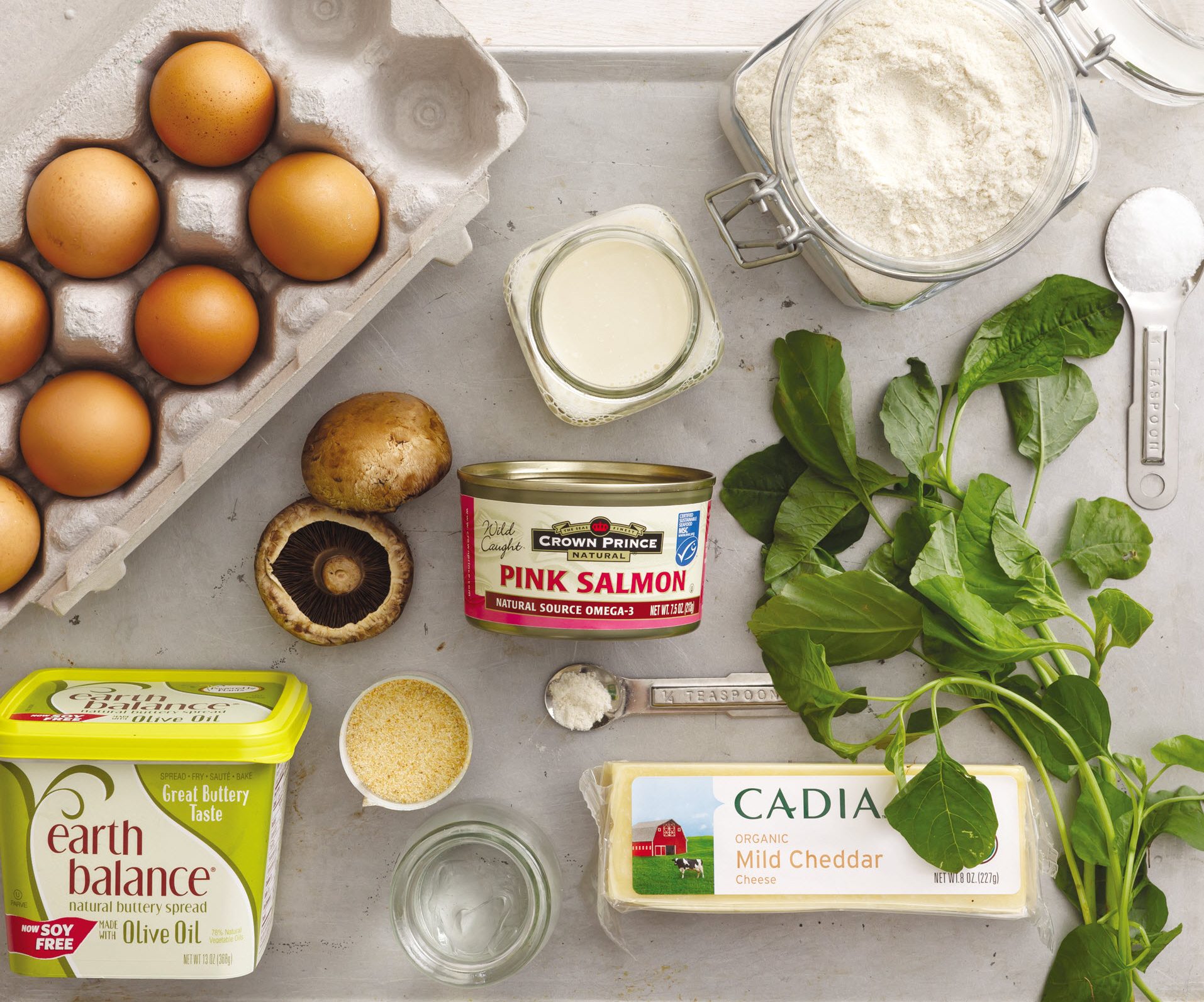 Mushroom, Spinach & Salmon Quiche
Yield: 6 serving
Prep time: 1 hour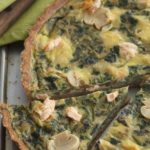 Ingredients
Crust
1 ¼ cups whole wheat pastry flour
1 Tbsp brown sugar
½ tsp sea salt
6 Tbsp olive oil butter
4 Tbsp ice cold water
vegan butter spray
Filling
1 can of salmon in brine, drained
¾ cup of organic cheddar cheese, grated
1 handful of organic spinach leaves
½ cup fresh mushrooms, sliced
1 cup organic almond milk
8 organic eggs
1 tsp sea salt
1 tsp garlic powder
½ tsp white pepper
Instructions
Crust
Preheat oven to 375°F (190°C).
Combine flour, sugar and salt.
Blend the butter into the flour mixture, pinching them together with your fingers and thumbs and adding the ice cold water 1 tablespoon at a time.
Roll the dough into a ball, cover in plastic wrap, and refrigerate.
Filling
In a bowl, whisk together the milk, eggs, salt, garlic powder and white pepper.
Unwrap the dough. Using a rolling pin, roll it out using a rolling pin between 2 sheets of plastic wrap until it is 2 inches larger in diameter than the baking pan.
Spray a 9-inch round baking pan with vegan butter spray.
Place the pan face down on the flattened dough, then flip over.
Press the dough onto the pan from the center outwards and up the sides. Pierce at the center with a fork.
Bake your crust for 5 minutes or until the crust firms up. Remove pan from oven.
Layer the filling ingredients, starting with the spinach, salmon, mushrooms and cheese. Then, pour in the milk and egg mixture.
Bake for 25 minutes or until egg springs back. Cool for 5 minutes before eating.
Notes
Going gluten-free? Replace whole wheat pastry flour with ½ cup quinoa flour, ½ coconut flour and 2 tablespoons flax seed meal.
This keeps well in the refrigerator for 5 days.  Take a slice with you to work and pair it with an easy side salad and a bowl of fruit. Can be eaten warm or room temperature.