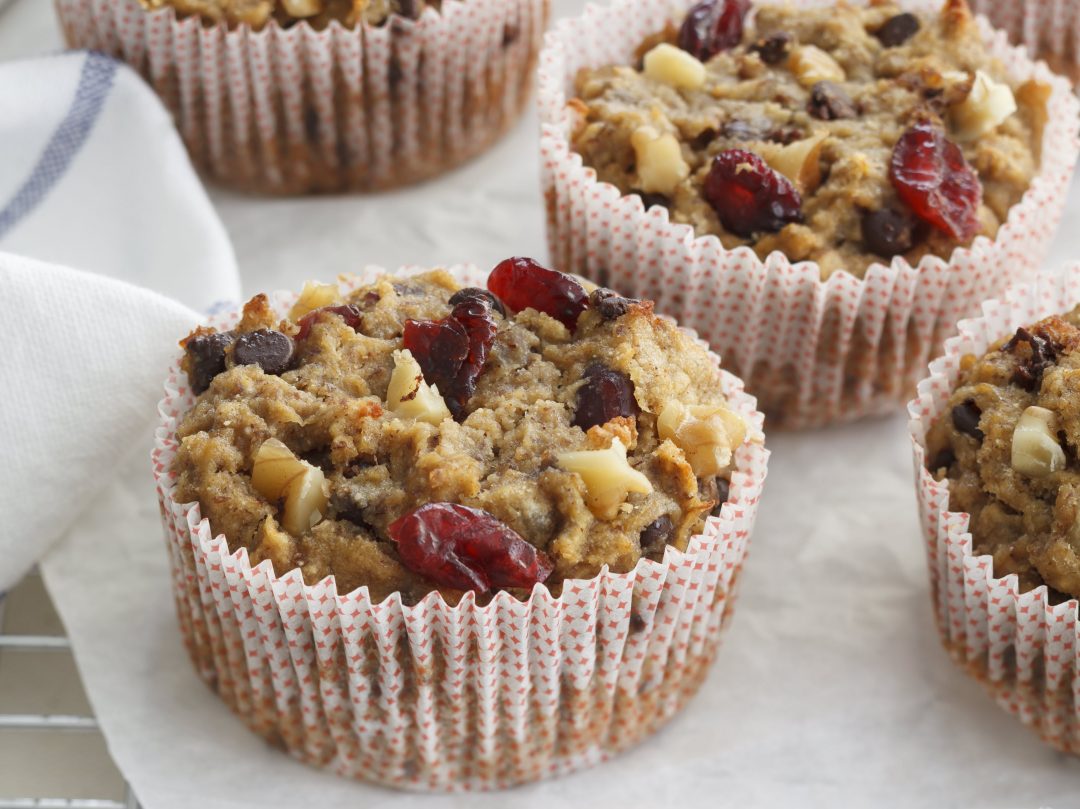 Unlike any other banana muffin you've ever had, baking this healthy version at home gives you complete control of this very versatile snack because you have the freedom to add whatever nuts, chocolate or dried berries you want!
The first thing I ever learned how to bake three years ago was banana bread.  Just like all recipes I teach myself how to make, it has to start with love – something I love eating, that is.  But when I started baking banana bread at home and realized how much sugar was going into it, I changed my mind about it being a go-to snack.  Not to mention my recent leanings about refined flour and wheat in general!  But don't fret, fellow banana bread lovers.  There is a way to enjoy it with less guilt and more health benefits!
You will find many different "healthy" versions online but this recipe, I am proud to say, I came up with by choosing the best ingredients possible and experimenting with the ratios until I finally got it right!  It was so worth it because now when I crave for banana bread, my Manang Belle just refers to my Healthy Options calendar and she can totally bake it herself.  It comes out the same every single time!  Whew!
I chose to turn it into a muffin recipe for the simple reason that they bake faster and it's cuter to carry around a pretty little muffin in your bag or lunch box, like what I do.  The ingredients are carefully selected to be "functional" and not weigh you down like most traditional pastries.  And by that, I mean make you fat and slow.  Sorry, but I blog to speak the truth.
Coconut flour and quinoa flour have a high fiber content compared to their carbohydrate content, cancelling out the carbs and leaving you with very low net carbs.  English please???  Lower net carbs means better for fitness and weight loss.  Foods that are high in carbs like starches and grains, when not properly burned through physical activity can be stored as fat.  Flaxseed meal, on the other hand, is valuable for having essential fatty acids.  And the most important ingredient that makes a world of difference in this recipe is stevia!  Stevia is a 100% natural zero calorie sweetener that blends really well with baked goods.  If you don't know how awful refined sugar is yet, please do yourself a favor and Google.  Not only is it more addictive than cocaine but it also screws up your metabolism and makes you gain weight!
Gluten-Free Flax Seed Banana Muffins
Yield: 12 muffins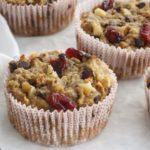 Ingredients
Wet
1 ¼ cup of organic bananas, overripe, mashed
2 organic eggs
¼ cup + 2 Tbsp yogurt
3 Tbsp apple sauce
3 Tbsp walnut oil
1 ½ tsp liquid stevia
1 tsp vanilla extract
1 tsp baking soda
vegan butter spray
Dry
½ cup coconut flour
½ cup quinoa flour
¼ cup flax seed meal
2 Tbsp brown rice flour
1 tsp baking powder
1 tsp cinnamon
1 cup add-ons: nuts, chocolate and/or dried berries
Instructions
1. Preheat your oven to 350°F (180°C) and line the muffin pan with cupcake liners or spray with butter.
2. In a big mixing bowl, combine all of the wet ingredients.
3. In another bowl, combine flour mix with all dry ingredients except add-ons.
4. Then pour dry ingredients into wet mixture without over stirring.
5. When batter is evenly mixed, fold in your nuts, chocolate or berries.
6. Put 2 heaping spoons of batter into each muffin cup.
7. Set your alarm for 10 minutes and place baking pan at the center of the oven on the lower tier.
8. Check your batter with a toothpick when the alarm goes off. If batter still sticks to the toothpick, put it back in the oven for another 2-5 minutes or until toothpick comes out clean.
9. Let it cool for 5 minutes before removing from the pan.
Notes
Add-ons: Any dried fruit, nut or chocolate works well with this recipe.  You can get as creative as you like and even try my favorite mix of cacao nibs and dried coconut.  Not particular about sugar content?  Replace Stevia with ¼ cup coco sugar.