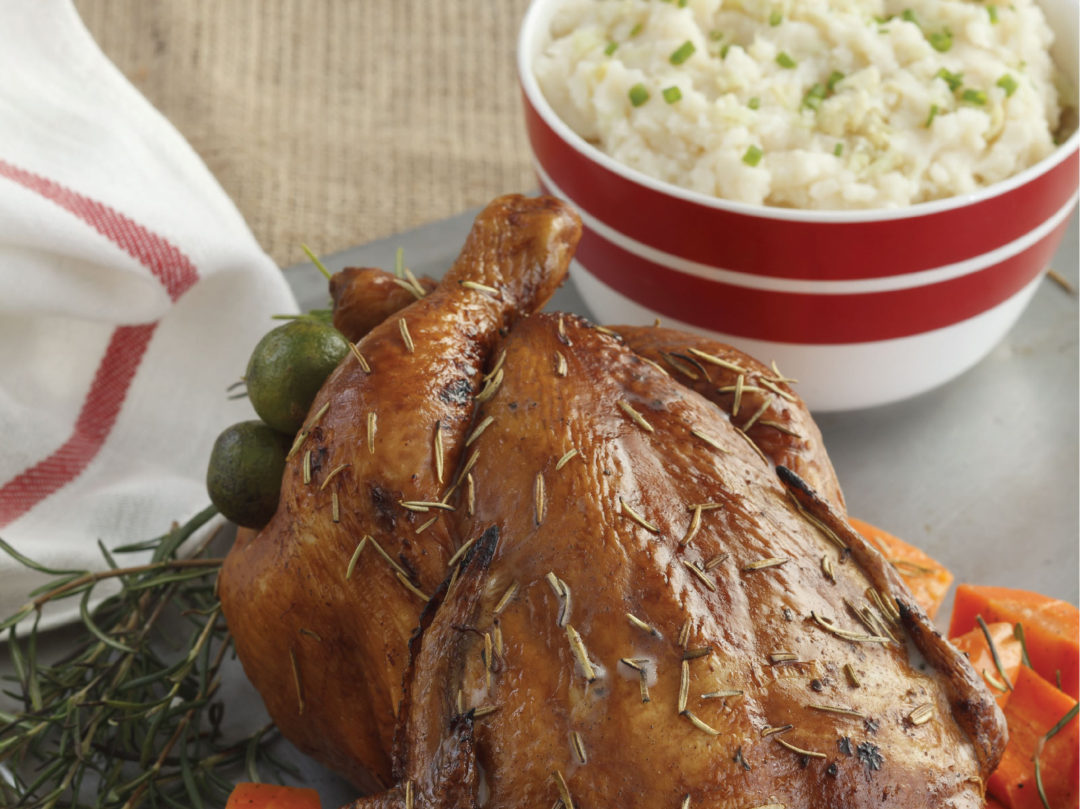 This is the kind of dish that's perfect for a family or holiday gathering.  There is something about the smell of roasted meats that makes me feel warm and cuddly.  Or extremely hungry.  This dish is also quite balanced and healthy as it has enough vegetables to make you feel full without boring you to death.
What makes this recipe different from ordinary roasted chicken is the tangy kick of calamansi on the crispy chicken skin.  I love using fresh rosemary too.  It makes a world of difference in making the dish more fragrant and appetizing.  Fresh rosemary is very to find nowadays in local supermarkets.  Or better yet, buy a small plant like I did!
We all know that mashed potatoes are a little bit fattening – it is full of butter and white carbs!  So I made a cauliflower mash to go with the chicken!  You get your serving of vegetables and your stomach won't feel so bloated either.  And it's extremely easy to do!  Enjoy!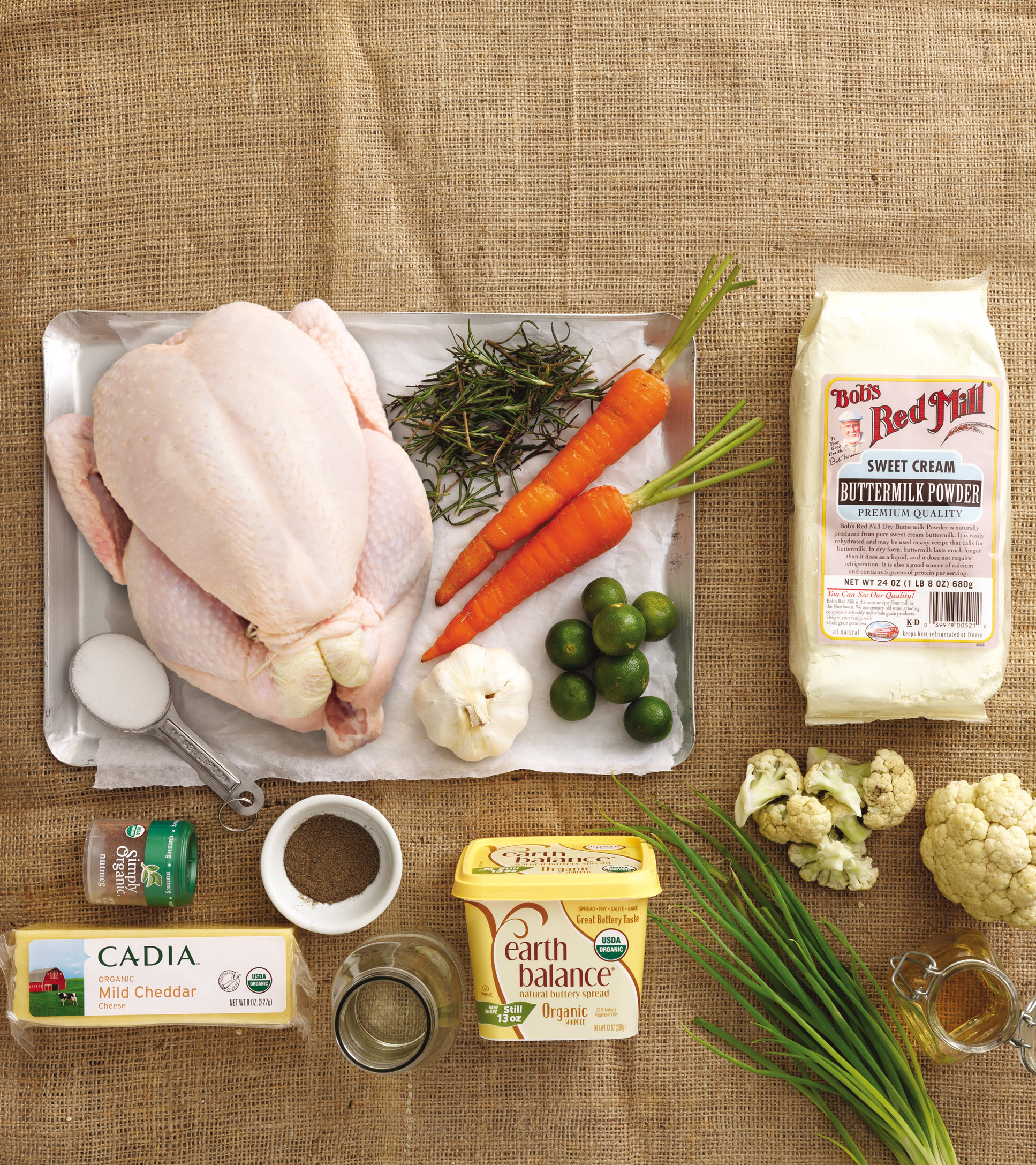 Calamansi Rosemary Chicken and Cauliflower Mash
Yield: 4 servings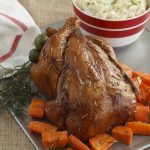 Ingredients
Chicken
1 whole organic chicken
1 Tbsp sea salt
1 Tbsp ground pepper
10 garlic cloves, crushed
5 fresh rosemary sprigs, stem removed
3 Tbsp olive oil
10 pcs organic calamansi, halved and seeded
2 organic carrots, cut into eighths
Cauliflower mash
1 kg organic cauliflower, cut into florets
2 garlic cloves, crushed
2 Tbsp buttermilk powder + ½ cup water
4 Tbsp organic buttery spread
½ cup organic cheddar cheese, grated
½ tsp nutmeg
sea salt and white pepper to taste
chopped fresh chives
Instructions
Chicken
Preheat the oven to 375°F (190°C).
Rub chicken and carrots generously with salt, pepper, garlic, 2 rosemary sprigs and olive oil.
Cut calamansi in half and squeeze them lightly all over the chicken.
Stuff the squeezed calamansi, garlic and remaining rosemary sprigs inside the chicken cavity.
Cut the wing tips and truss the chicken with twine, holding the wings down and legs together.
Place chicken in the center of a baking dish and arrange carrots around it.
Roast for 1 hour or until skin is crispy all over, brushing the chicken with its own drippings every 20 minutes.
Cauliflower Mash
Steam cauliflower florets and garlic until overcooked, around 12-15 minutes.
Place the cooked cauliflower and garlic in a food processor. Add buttermilk, butter, cheddar, nutmeg, salt and pepper. Process until smooth and creamy.
If you find it too watery, heat the mash in a pan for a few minutes to reduce the liquid.
Transfer to a serving bowl and garnish with chives.
Gravy
Transfer all the drippings to a small pot and skim all the fat.
Cook on low heat for 2 minutes with 1 tsp of cornstarch.
Notes
Shred the left over chicken for a salad or sandwich the next day.  Then put the bones in a pot with with mirepoix (carrots, onions, celery), a head of crushed garlic, 3 bay leaves, rosemary, parsley, thyme, peppercorns and 8 cups of water.  Simmer for 5 hours, skim the fat and strain the vegetables.  Now you have chicken stock to use for boiling quinoa, making soups and sauces!