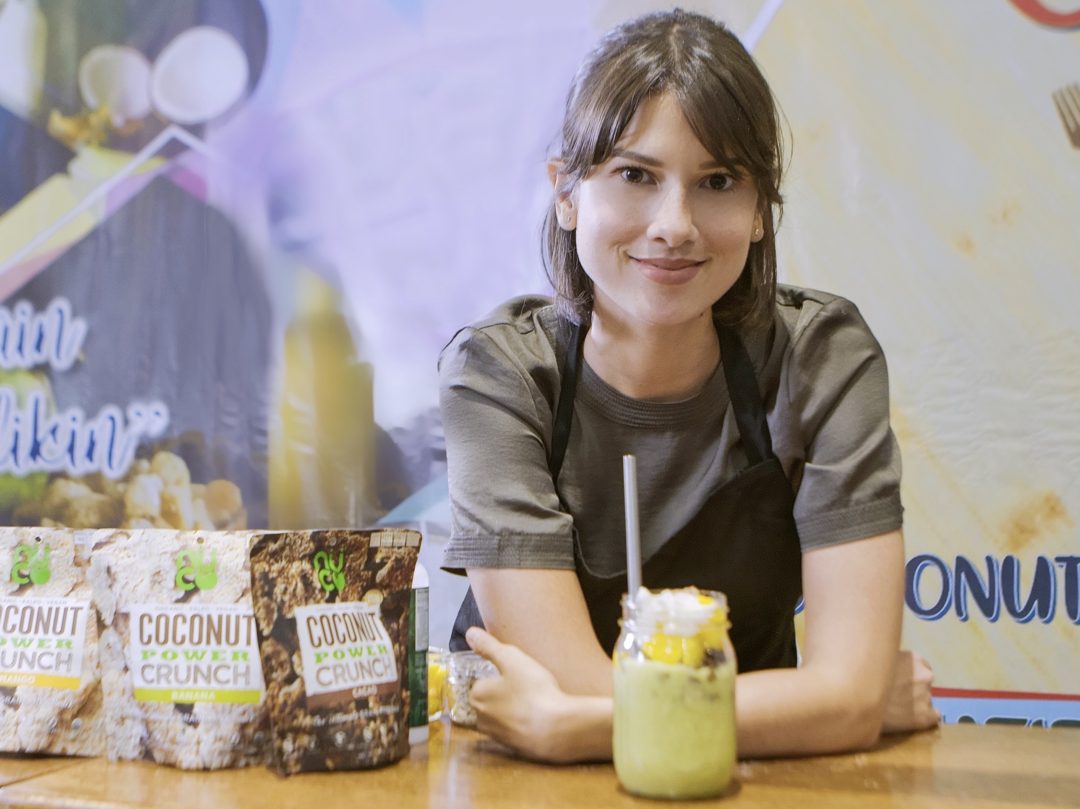 I did a demo of how to make a basic green smoothie and vegan Mexican wrap at the World Coconut Congress using the best coconut food products of Nuco and ProSource.
I'm always asked how I'm able to maintain my weight and still enjoy life. The answer is, I eat mostly plant-based food but season it very well. I use all sorts of spices and seasonings on vegetables, eat a variety of fruits and naturally sweet desserts and I make my own flavourful salad dressings. I don't even eat salad too often. I make sure my homemade meals are easy to do because really, who has the time for anything complicated?
I'm not vegan or vegetarian, though I have month-long or year-long streaks of following either of the two diets. As a foodie, I like to taste everything here and there. I gave up beef and pork for over two years. Now I'm on month 9 of no poultry (chicken, duck, anything with wings) and I've tasted some four-legged animals this year. When I'm ready to let it go again, all I do is watch pro-vegan documentaries on Netflix and YouTube and I easily go back to feeling compassion for these animals that don't want to die to be eaten by me. Funny but true. That's my inner monologue when I go from eating animals to plants. I do love seafood though but I love the ocean and scuba diving just as much. Another conundrum.
These recipes are staples in my household. They're fun to put together and very tasty. I've been buying the Nuco coconut wraps for years. You can make all sorts of savoury meals with them like the Mexican Wrap. I'll definitely post more recipes soon. The coconut cereal is my favourite daily snack when I have the munchies but I also put them on my smoothie bowls. But the true star of my plant-based living is virgin coconut oil from ProSource. I eat it, bake with it, cook with it, use it as moisturiser from the tips of my hair down to the tips of my toes.
Coconuts are truly a gift from nature. They have endless uses and provide so much sustenance. I hope this post inspires you to consume any kind of coconut product, one a day, everyday!
Ingredients
Salsa
1 cup tomatoes, cubed
¼ cup white onion, diced
¼ cup cilantro, minced
1 Tbsp fresh lime juice
¼ tsp ground cumin
¼ tsp salt
¼ tsp ground black pepper
Mexican beans & rice
1 Tbsp Coconut oil
6 Garlic cloves, minced
1/2 tsp Paprika
1/2 tsp Cumin
1/4 tsp Turmeric
1/4 tsp Chili powder
1/2 tsp Garlic powder
pinch of Salt & Pepper
Cooked pinto beans
Cooked brown or black rice
Wrap
1 Nuco wrap
1 Tbsp Nuco vegan mayo
1/2  cup lettuce, shredded
½ cup mexican beans & rice
2 Tbsp salsa
1/4 cheek avocado, sliced into strips
Instructions
Mix the tomatoes, white onion, cilantro, lime juice, cumin, salt and pepper in a bowl.
Heat the oil and sauté garlic.  Add rice and beans.
Mix in seasonings and season to taste.
Spread vegan mayo on one side of wrap.
Place lettuce and Mexican rice in the middle of the tortilla wrap.  Top with salsa and avocado.
Fold both ends towards the center.  Fold bottom of the wrap towards the center and roll.
Ingredients
handful of kale, lettuce or any leafy greens (70g)
2 Tbsp Virgin Coconut Oil (30g)
1 frozen big banana or 2 medium bananas, chopped (80g)
1/2 tsp ground cinnamon (2.5g )
handful of ice cubes (150g)
½ cup water
Toppings:
½ cup cereal
1 mango cheek, cubed
2 Tbsp dried coconut
2 Tbsp sunflower seeds
Instructions
1.      PUT LEAFY GREENS IN THE BLENDER FIRST.
2.      Add banana, VCO, cinnamon and water in the blender.
3.      Blend on high until fruits are soft. 10-15 seconds.
4.      Turn off blender and loosen the sides with a spatula.
5.      Add ice and blend on high until fine.  20-30 seconds.
6. Pour into a clear mason jar and assemble into a parfait with toppings.  You can start with cereal then mango, then sunflower seeds then top with dried coconut.
Content collab with Studio Cantero