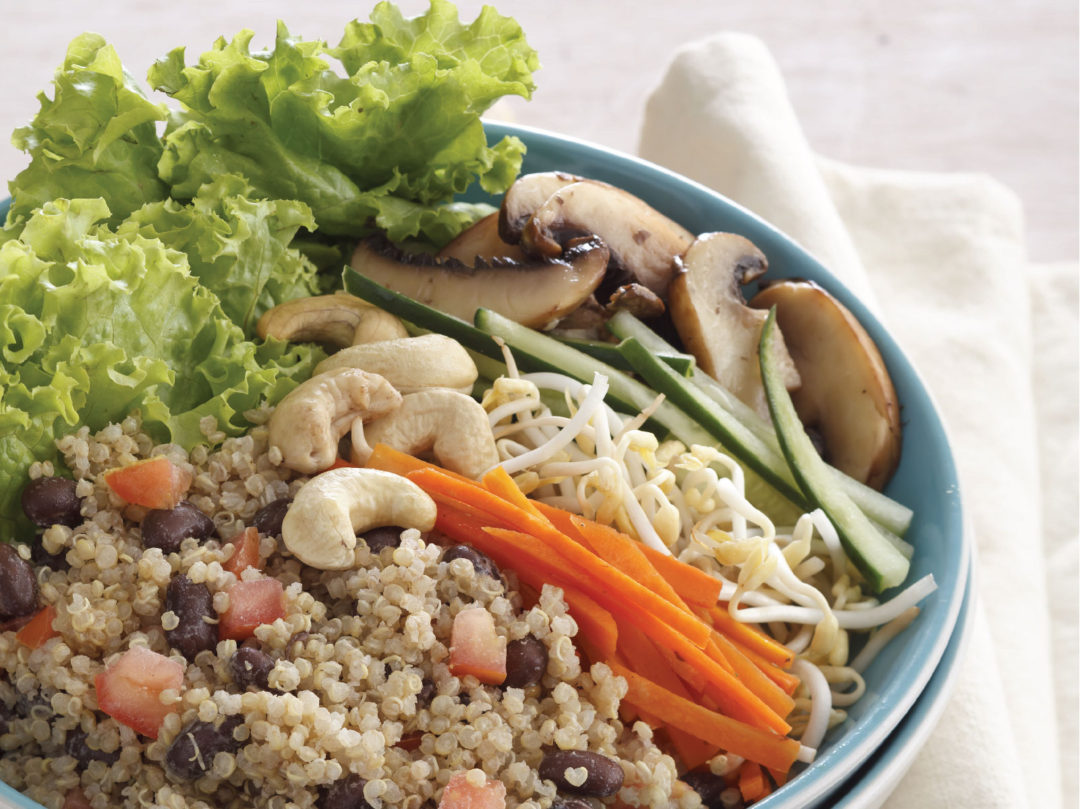 It is my goal in life to get everyone to eat more vegetables.  People have aversion to vegetables and healthy eating because of the lack of creativity in most vegetable dishes.  It just becomes a chore to eat vegetables.  I, on the other hand, love them and constantly invent ways to make vegetables appetizing.  My Tahini Quinoa Superbowl is everyone's fave at my restaurant Runner's Kitchen.  I knew people would be intrigued with this creative-looking salad but I didn't think it would be one of the top sellers!
This dish combines savory caramelized mushrooms and carrots with raw and refreshing lettuce, cucumber and bean sprouts.  It's vegan, low in fat yet so filling and has an array of flavors you wouldn't expect in a vegetable dish.  The combination of chickpeas, black beans and quinoa is high in plant-based protein making it a great low-fat alternative to meat.  I am a believer in Meatless Mondays!  If you are a meat lover, you need to give your digestive system breaks and eat meatless meals a few times in a month.  You are also doing your part in saving the environment as animal rearing is one of the biggest contributors to pollution.
Then there's the fresh Tahini.  This is a must-have for every healthy eater.  It's so easy to make and you can keep it bottled in the refrigerator for weeks.  It is not just a salad dressing but can also be used as a dip for vegetable sticks and pita bread.  It is also a key ingredient in making hummus.
This warm and fresh salad is a good side dish to any meat for you much needed daily dose of vegetables.  You can also roll it in a tortilla wrap with some shredded chicken for an easy, on-the-go snack you can hold in your hand.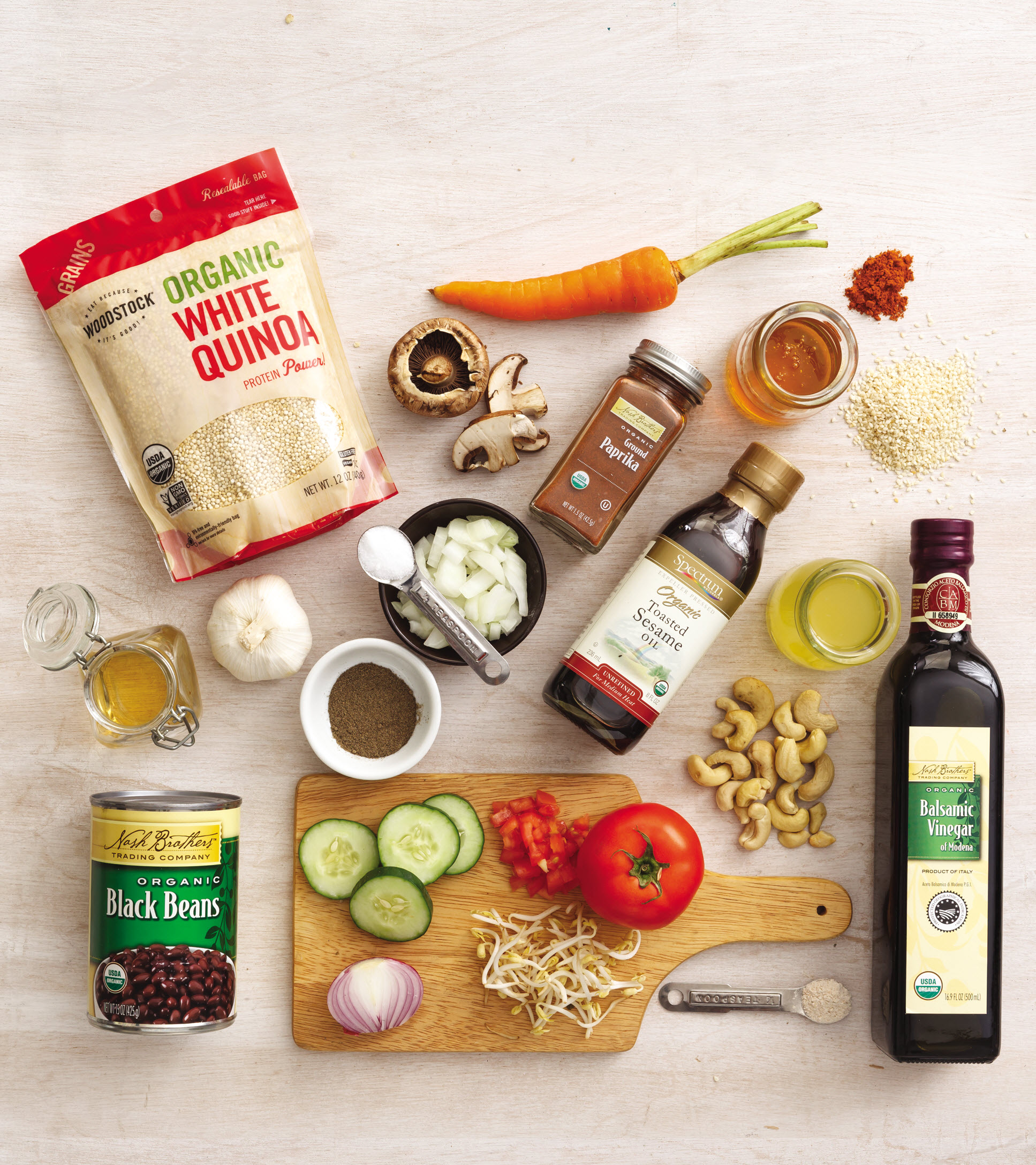 Tahini Quinoa Superbowl
Yield: 4 servings

Ingredients
Tahini
1 ½ cup sesame seeds
6 garlic cloves, chopped
¾ cup extra virgin olive oil
¼ cup calamansi juice
½ tsp sea salt
½ tsp white pepper
Quinoa
¾ cup organic white quinoa
4 garlic cloves, minced
½ white onion, diced
4 organic tomatoes, diced
½ can organic black beans
1 cup tahini
Vegetables
2 Tbsp sesame oil
1 small red onion, sliced
1 cup shiitake mushroom, sliced
1 Tbsp organic raw honey
1 Tbsp balsamic vinegar
2 medium carrots, julienne
1 cucumber, julienne
½ tsp paprika
¼ tsp chili flakes
¼ tsp cumin
2 cups bean sprouts
sea salt and pepper to taste
roasted nuts
Instructions
Set 2 saute pans on low heat. Roast the sesame seeds in one pan and the garlic with a little olive oil in the other. Occasionally stir until golden.
Combine all tahini ingredients in a blender or food processor and blitz until smooth.
Cook quinoa in a pot with garlic and onion according to package instructions.
When quinoa is cooked, remove from heat and toss in tomatoes, black beans and tahini.
Heat sesame oil in a pan and sweat red onions, then add shiitake mushrooms.
Stir in honey and balsamic vinegar.
Add carrots, chili flakes, paprika and cumin then cook for a few minutes.
Season with salt and pepper.
Arrange quinoa and stir-fried vegetables in a bowl with the raw bean sprouts, cucumber and cashews.
Mix well before eating.
Notes
To make this a more traditional salad, arrange everything on a bed of shredded lettuce and toss!  You can also refrigerate the Tahini in a mason jar and use it as a dip, salad dressing or for stir-frying.