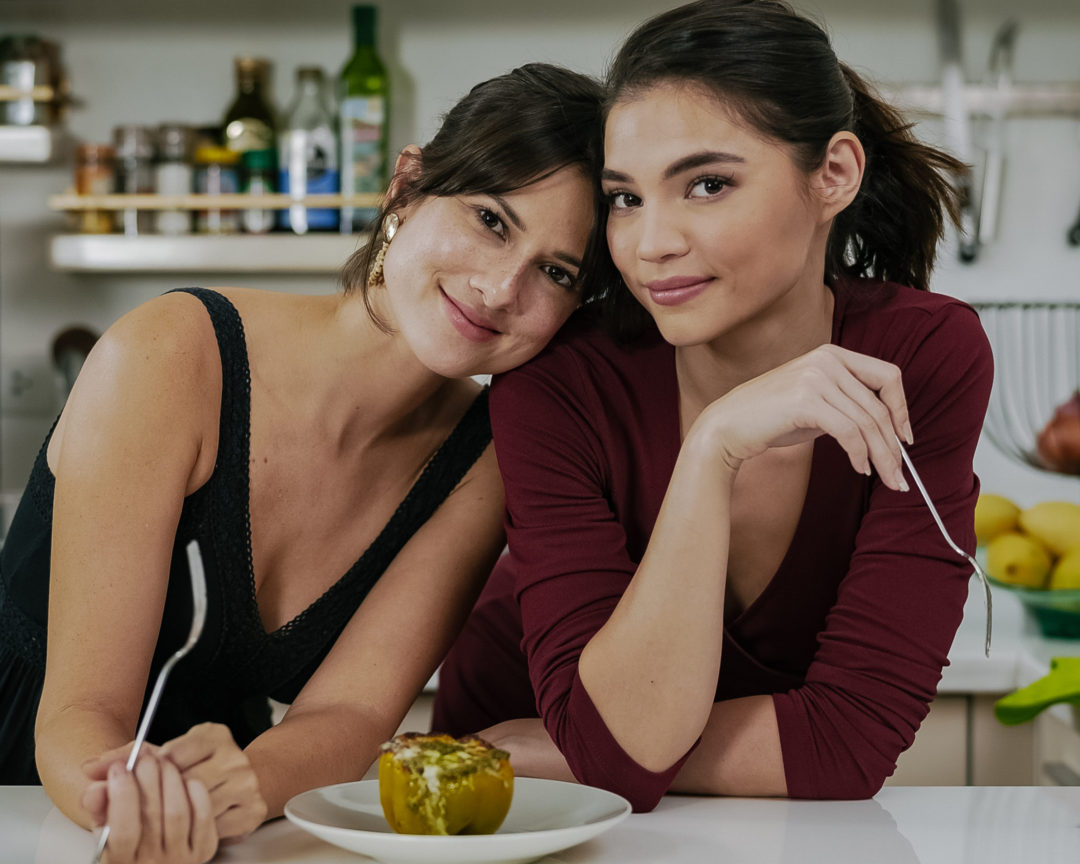 I think the world knows I have a special relationship with Rhian. Some even think she's my girlfriend. She is not but she is like a sister to me.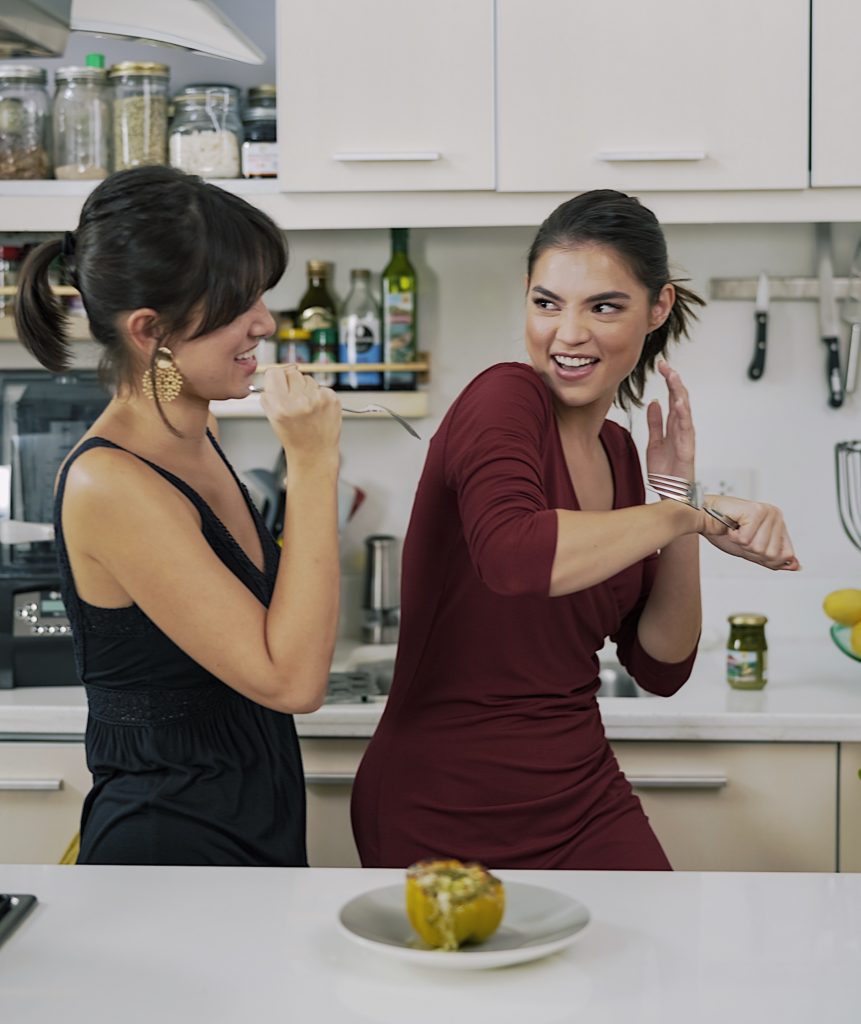 We have a lot of fun together and one of the things we do to bond in real life is work in the kitchen together. Ever since, Rhian has loved helping me in the kitchen and always participates. Scroll down for the video.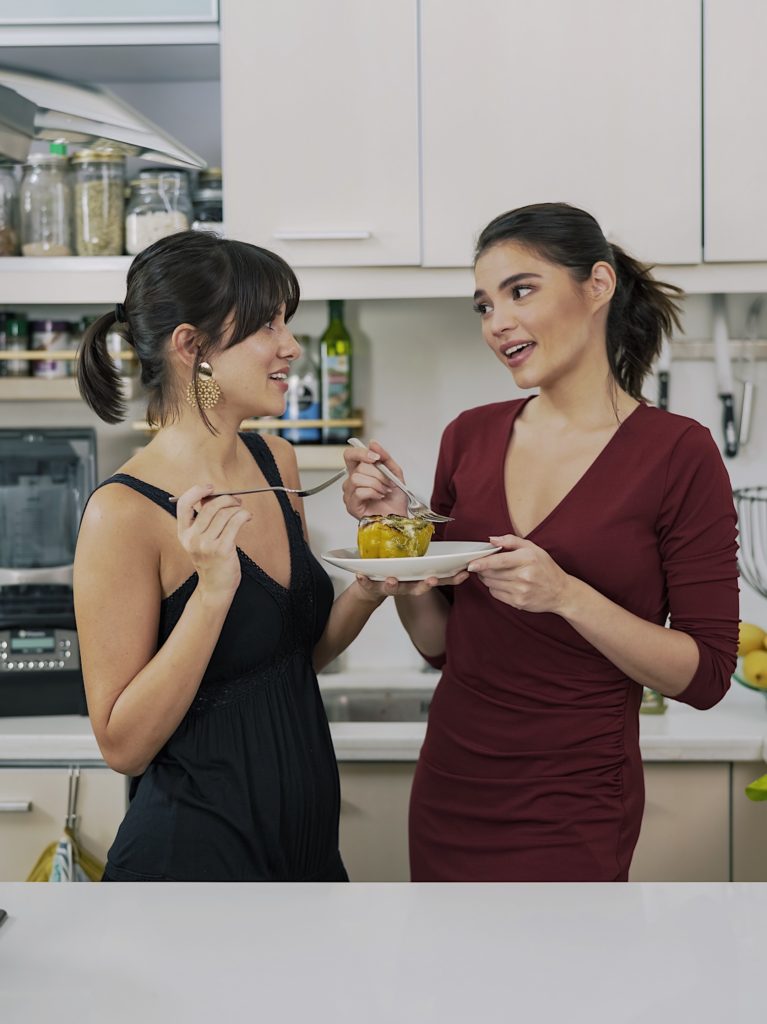 I have a soft spot for non-cooks and non-chefs who participate in home kitchens. Rhian is enthusiastic about it. Her mom Tita Clara is a great home cook too. I love eating in their house.
The kitchen is where a lot of love is made and pleasure is derived from. Rhian is like me, crafty and thoughtful. It feels nice to gift someone with a meal or baked treat. But it also feels good to enjoy vegetables prepared in a delicious way and know you're making a good choice for your health and planet earth.
I wanted to make something that was Rhian's idea then add my tweaks to it. This baked bell pepper recipe is quick and easy but also covers a whole spectrum of vegetables. It's a great low-carb dish for parties that looks pretty on a plate and has that universally-loved taste of simple Italian cooking. It can be made with ground meat, chopped up seafood or chicken or kept vegetarian without sacrificing taste. Scroll down for the recipe.
Rhian is also like me, we try to just eat vegetables on certain days for health and vanity reasons. =) So far, this has worked for us when we need to lessen our calorie intake. Going meat-free on certain days of the week is not just a growing trend but also the right thing to do for your body and the environment.
VEGETARIAN BAKED BELL PEPPERS
Prep Time
15 mins
Cook Time
15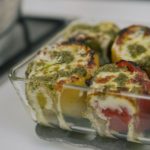 Ingredients
6-8 medium size bell peppers mixed colors
Contadina Olive Oil
1 medium onion, diced
3 garlic cloves, diced.
1 medium zucchini, small cubes
2 cups brown mushrooms, cubed
½ can Contadina diced tomatoes with Italian herbs, (200g).
1 cup cooked chickpeas
Salt & pepper to taste
1 tsp sweet paprika
½ bottle Contadina Formaggio pasta sauce
Mozzarella cheese, as much as you want
Contadina pesto sauce
Instructions
Preheat your oven to 200 C.
Cut the top of the peppers. Scrape the seeds and membrane.
Put pepper in a baking dish then drizzle with olive oil. Prebake for 10-15 minutes while you prep the rest.
Sauté onions and garlic until translucent. Add zucchini and stir for 2 minutes then add mushrooms.
Add tomatoes and chickpeas then season with salt, pepper and paprika.
Fill each pepper with mushroom and chickpea mixture. Top with mozzarella cheese and pesto.
Place baking dish on the middle rack of your oven and bake for 10 minutes.
Notes
Comment below how you currently eat and how you're trying to evolve towards a better balanced diet. Subscribe to my YouTube channel, like the video and follow me on Facebook and Instagram. – B