As with many of my fascinations, I have an insatiable urge to try my hand at every craft that piques my interest. Baking is no different. The chemistry of pastry making mystified my curious mind. These whole wheat banana muffins are as fluffy and moist as any other traditional cupcake. I assure you they are worth every calorie because this recipe uses better ingredients making it a wholesome indulgence.
Moving into my own home brought out the closet housewife in me – the animal-loving, tree-hugging, kitchen obsessed, frustrated interior designing homemaker.  What else could spell domestication like a girl who loves to be in kitchen and makes things from scratch?
Growing up always buying banana bread at the nearest coffee shop to satisfy my hunger or sweet tooth, I figured it would be a good "entry level" pastry to make from scratch because I knew what good banana bread tasted like.  I searched high and low on the internet for banana bread recipes and found the recipes to contain ingredients I didn't want to put in my body.  Like cups of refined sugar (that means belly fat and diabetes to you) and tons of butter (clogged arteries and cellulite).  That is the painful truth about baking.  Traditional pastries are just some of the worst things you can put in your body.  Couple the sugar and butter with artificial dyes and flavors, eat them your whole lifetime and you've got a recipe for disaster.  I am not a health freak; clearly I am a foodie.  That's why I concluded that I would be the type of baker that tries to make things with better nutritional value than your run-of-the-mill, mass-produced pastry.
This recipe is a result of experimenting with wholesome ingredients, different measurements and methods of many banana bread recipes that looked sensible to me.  Try my version in muffin form topped with modest yet delicious frosting!
The Wholesome Banana Muffin
Yield: 12 muffins
Prep time: 1 hour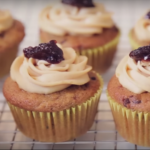 Ingredients
1 ¼ cup organic whole wheat flour
1 teaspoon baking powder
½ teaspoon ground cinnamon
¼ teaspoon sea salt
¾ cup dark chocolate chips
1 cup mashed overripe bananas
1 teaspoon baking soda
½ cup low-fat organic yogurt
¼ cup coconut oil
¼ cup coco sugar
2 free-range eggs
1 teaspoon organic vanilla extract
1 cup sugar-free peanut butter
1 bar low-fat organic cream cheese
2 cupcake pans
piping bag and star-shaped tip
organic fruit jam
2 mixing bowls
whisk
spatula
Instructions
Preheat oven to 350 degrees F (180 degrees C)
Grease a muffin pan with butter spray or place cupcake liners.
In a large bowl, mix together the flour, baking powder, cinnamon and salt.
In another large bowl, whisk together the mashed bananas, baking soda, yogurt, oil, sugar, eggs, and vanilla.
Combine the banana mixture with the flour mixture. Add chocolate chips then carefully stir a few times.
Pour batter evenly into the pan. Bake for 10 minutes.
Blend together cream cheese and peanut butter.
Remove pan from oven and poke with a toothpick. If toothpick comes out with batter, return to the oven for 2 more minutes.
Check a muffin again with a toothpick. If toothpick comes out clean, cool your muffins for a few minutes then remove from pan.
Fill a pastry bag with frosting then begin to swirl the bag on top of the muffin while squeezing.
Top with a dollop of blueberry jam.
Notes
Try replacing blueberry jam with any other fruit preserves.  If you're avoiding dairy, skip the cream cheese.  Plain peanut butter on top is just as yummy.