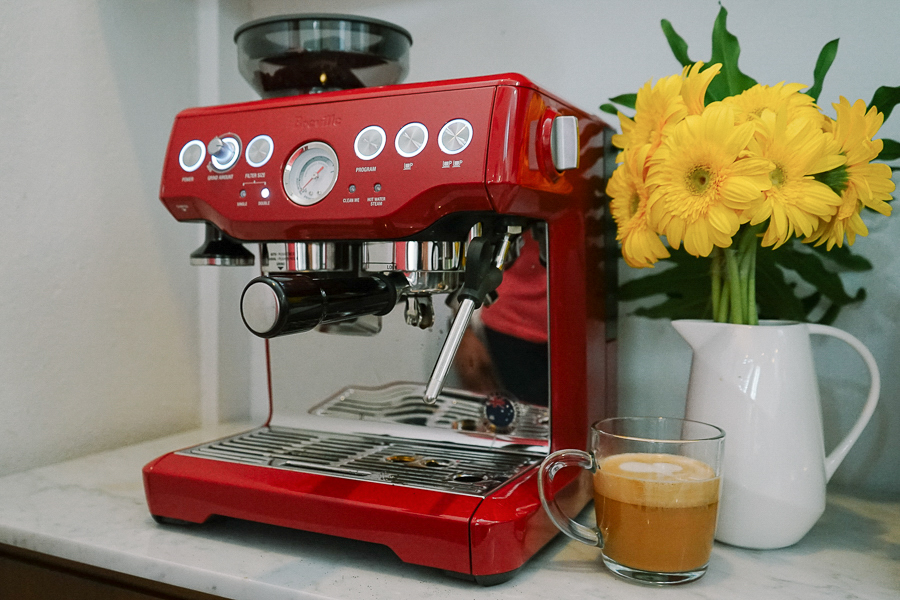 I am obsessed with coffee.
I learned how to appreciate what a good cup is around 4 years ago when Julio took me to Intelligentsia on Abbot Kinney in Los Angeles.  It is still, by far, one of the most intimidating coffee shops I have ever been to.  It felt like walking into a lair of coffee snobs and nazis.  Kind of like, if you can't identify your preferred flavor profile, roast and origin for your beans and if you don't know how you want your beans brewed – pour over, French press, siphon, blah blah blah – you were not worthy of ordering coffee there.  I surely wasn't as I still just ordered a hot mocha – the sweet, milky, chocolatey coffee I had been accustomed to.  But still, that place sparked my curiosity about black coffee… What's in a cup?
So I started looking for the best coffee shops in Manila and when I travel.  I ordered Americanos, Long Blacks and Espressos, trying to understand the nuances in bean flavor.  My search brought me to The Curator in Legaspi Village, Makati.  At this point, I had already fallen in love black coffee.  I knew that a great cup of coffee does not need milk or sugar to make it enjoyable.  My now dear friend David Ong, head coffee geek at The Curator and EDSA Beverage Design Group spotted me and offered to do a "coffee flight."  I was like… "Yes! What's that?"
David is on a whole other level of coffee expertise and I'm glad to have been influenced by his love for the craft.
Early 2016, I took a quick coffee course at Yardstick, also in Legaspi Village with Mari and some friends.  It was enough to make me dream of having a legit coffee machine at home.  The thought of grinding fresh, high-quality beans every morning, brewing a cup like a pro barista and steaming milk the way they do in coffee shops was like a fantasy for me.  One that I needed to turn in to a reality.
Here's a little recipe I like to do at home using my Breville Barista Express and Kinetix Control Blender.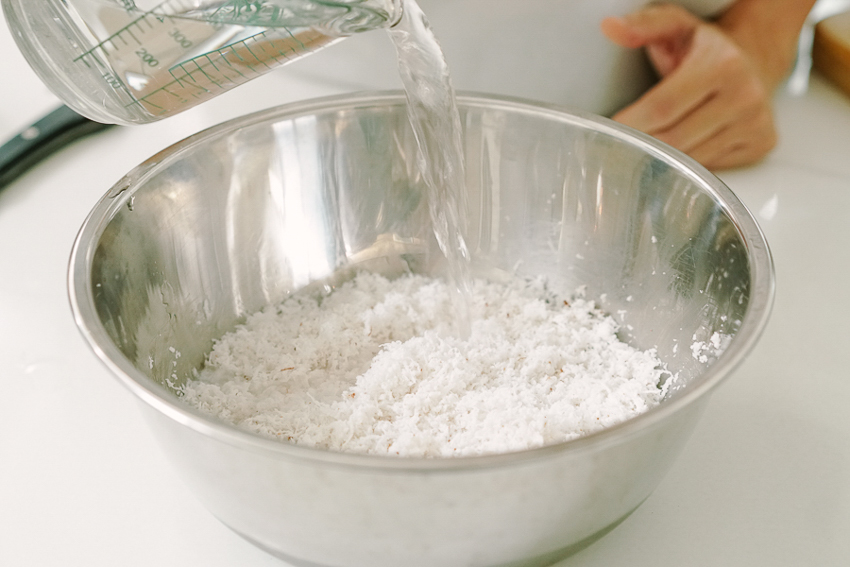 Fresh coconut milk is so easy to make!  Just get some mature coconut at the supermarket and have them grind it.  At home, boil some water and soak the coconut for 10 minutes.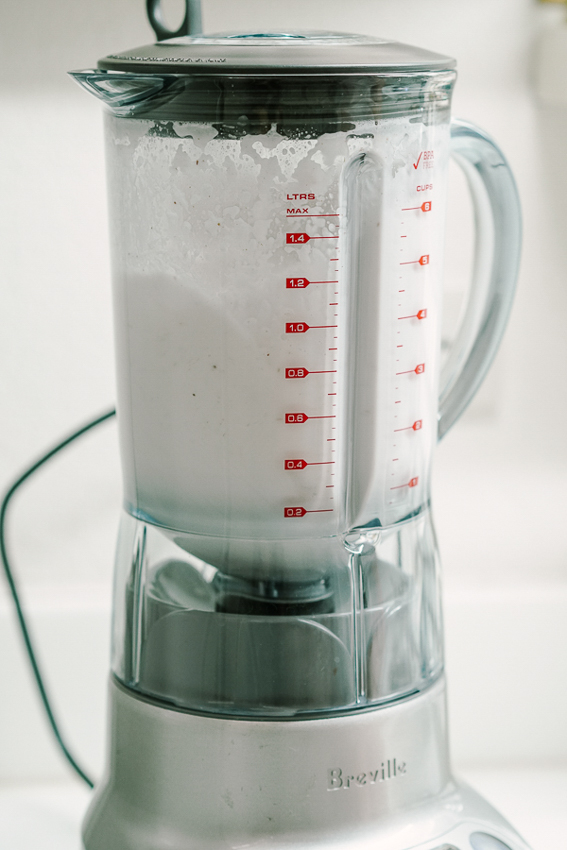 Blend the hot water and coconut.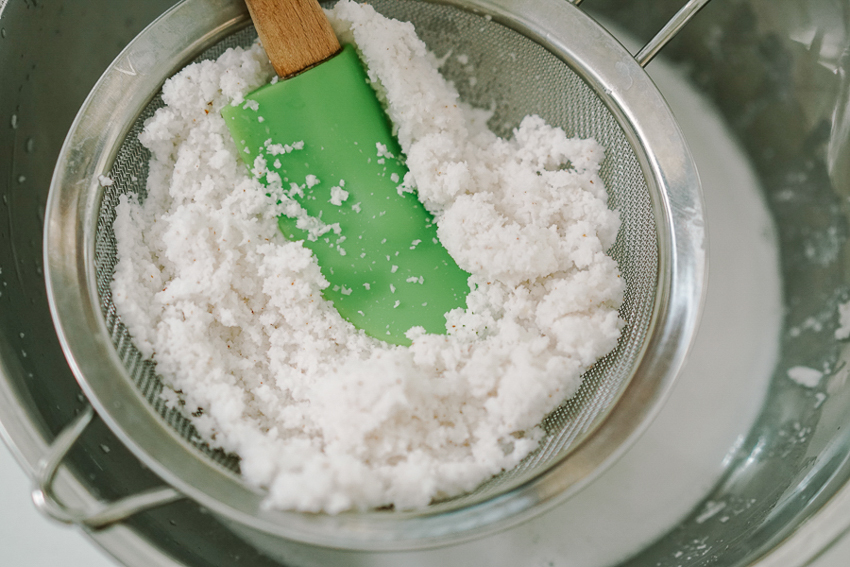 Press the coconut through a fine sieve to separate the milk.  Chill in the refrigerator.
Go to a legit coffee shop like The Curator, Yardstick or Toby's Estate to buy good beans.  I also like ordering local beans from Slurp or Eco Store.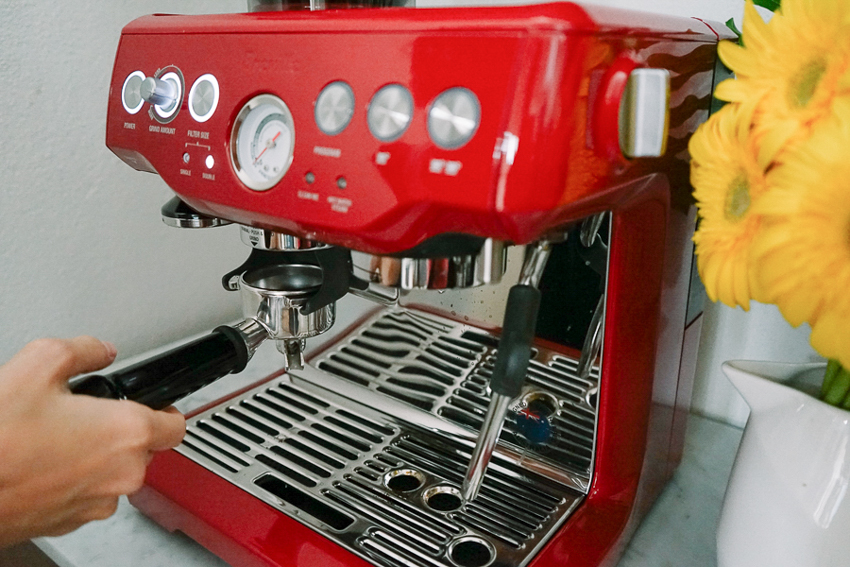 Adjust the grind size and amount until you get the right amount of pressure to get desired crema in an espresso.  It may take a couple of tries.
Gently push the grounds in a circular motion with your thumb and pointer towards the center of the porta filter.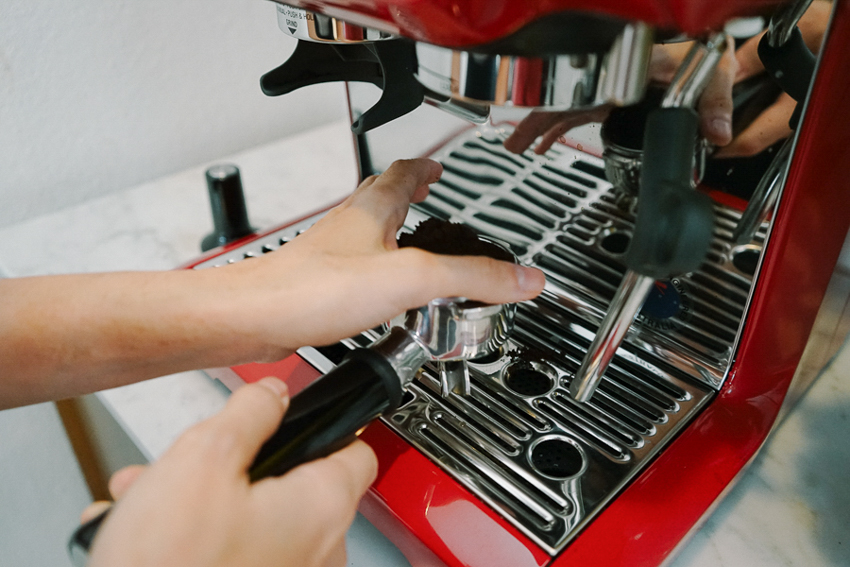 Though it may look like its going to overflow, try not to spill.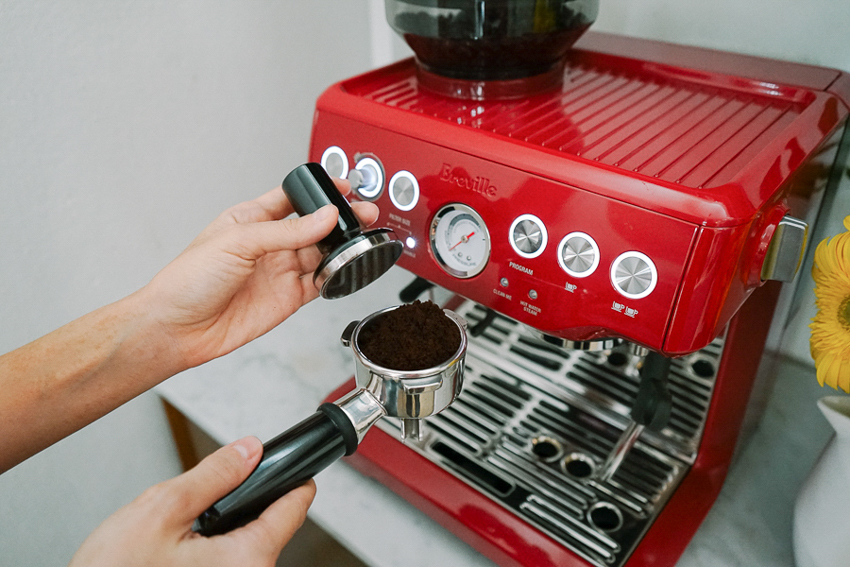 Tamping is an art. Rest the porta filter on the stable surface and lightly place the tamper in the center.  Press straight down with ample force.  Not too much, not too little.  This takes practice.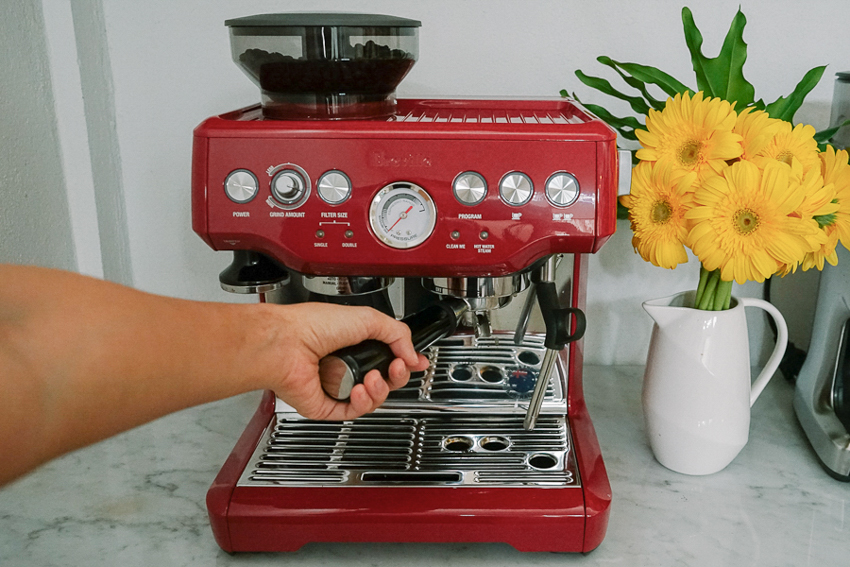 Make sure the porta filter is locked into the group head properly.  It should feel slightly tight.  If not, there will not be enough water pressure going through and will give you a watery cup.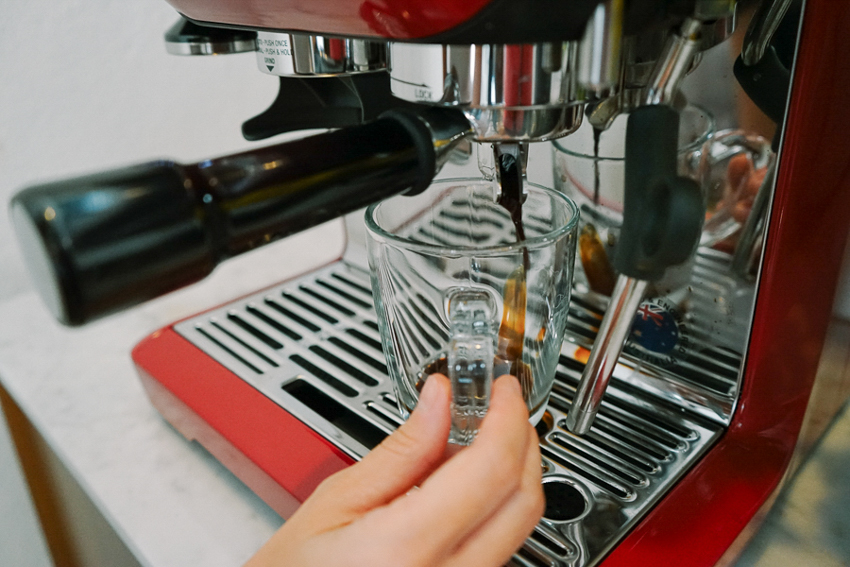 Through manual brewing, you can choose how much water you want.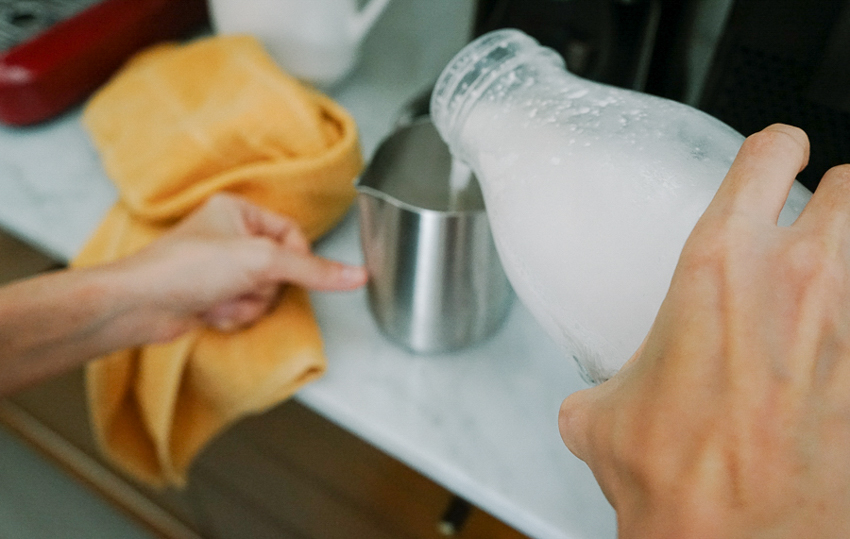 Pour cold coconut milk into the milk jug and steam.  (I'll probably save the steaming process for another post when I'm good at it.  I currently still suck at it.)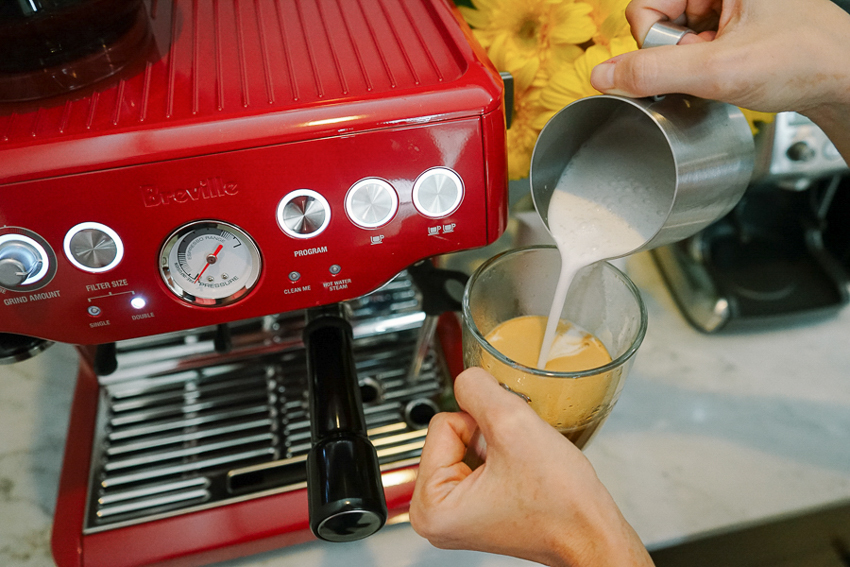 Another personal struggle… latte art.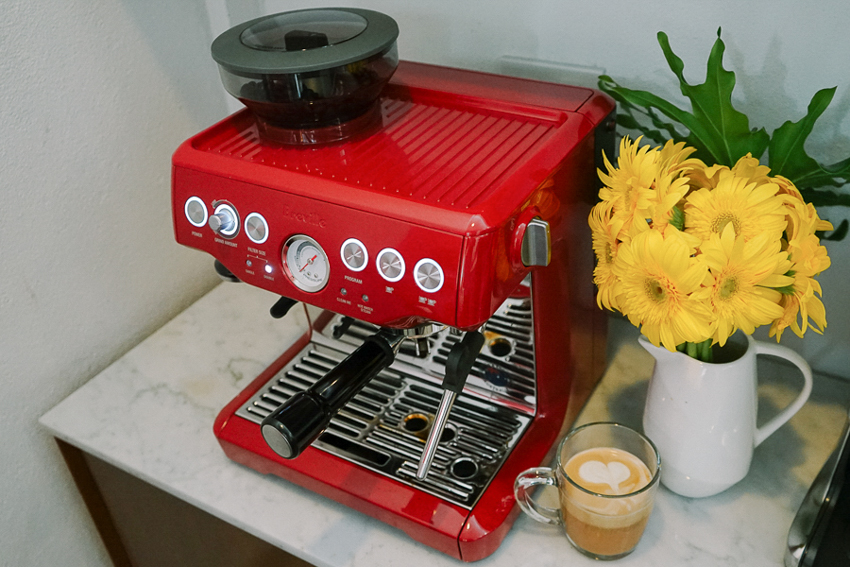 FYI, I didn't make that heart hahaha.
Coconut Milk Coffee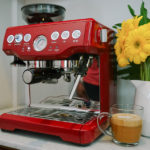 Ingredients
1 shot espresso
2 cups fresh mature coconut, grated
2 cups hot water
Instructions
Place grated coconut in a bowl and pour hot water. Let it soak for at least 10 minutes.
Transfer coconut to blender and blend for 1-2 minutes.
Pour blended coconut onto a fine sieve or nut bag. Squeeze out the milk until coconut is dry.  You can save the dry coconut for baking.
Store coconut milk in an airtight bottle. Keep in the refrigerator for 3 days.
Notes